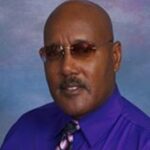 The Goals of this website is to Assist those that might be interested in Building their Own Online Business with great tips to start, build, and grow your Online Business.
In the beginning, just a Retired Military Person just looking for ways to supplement my present income. I became interested in learning how to make money online. After spending money on some of the schemes offered, I didn't make a cent. They always seem to give you just enough but never enough for you to benefit. So, my goal once I learned the Online Business, I would try to help other to succeed. and that is what I try to do. Using this website: ralphmorgandot.com and regular articles on Facebook.com/@onlinebusinesstips.  Hopefully, helping others that might be interested in building their own Online Business. In addition, helping those that have an Online Business and want to build it further. Who wouldn't like to be their own Boss, working part-time making full-time income from home. But my most "important" goal is that they may come to know my Lord and Savior Jesus Christ. Because, He is foundation needed to succeed in all areas of your life.
I haven't reach my desired goal as of yet. So, let us succeed together!!